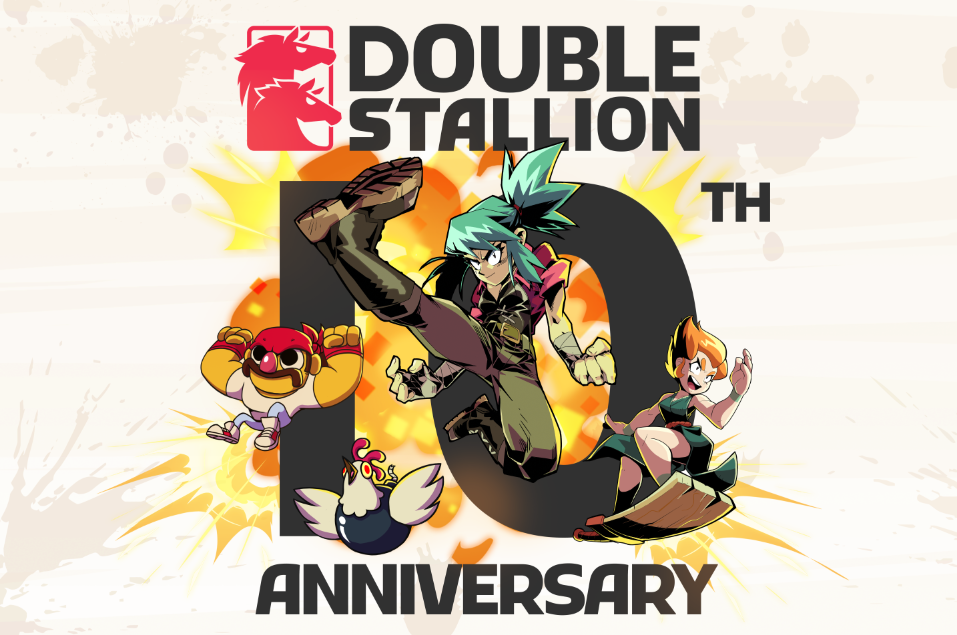 Howdy, y'all! Welcome to our humble little homestead here on the vast plains of the World Wide Web!
Believe it or not, but it has been a full decade since Double Stallion first opened its stable doors with the goal of creating highly polished, imaginative and engaging games. In the intervening years, we've gone from a tiny startup of four founders to the full-fledged and ambitious studio we are today, with a team of over 30 talented developers and some big plans for the future.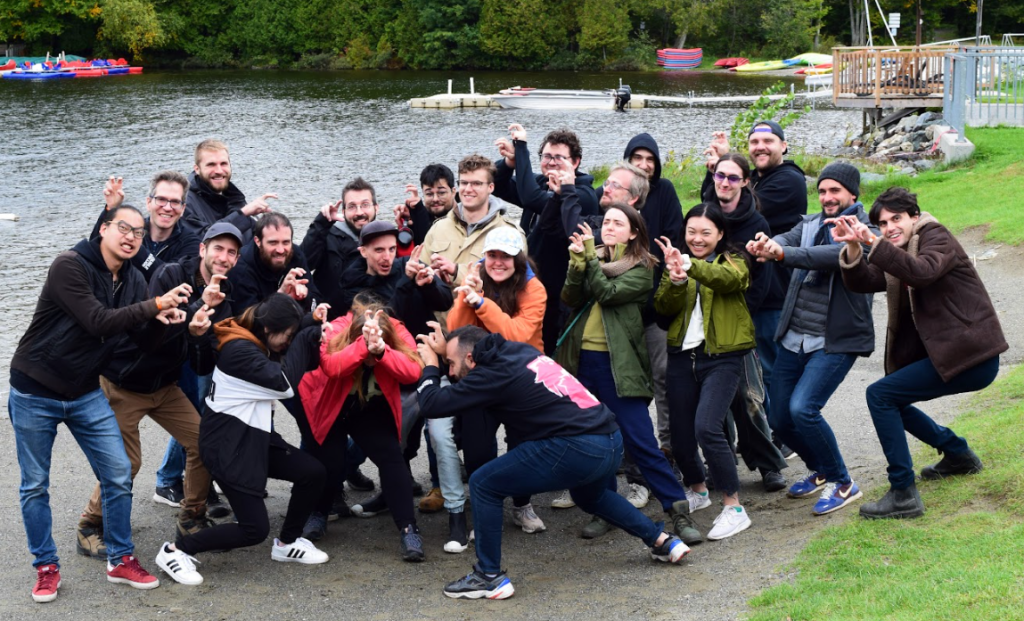 Since day one, Double Stallion has focused on creating fun, action-packed games. From our first release, Big Action Mega Fight, to our next upcoming title, Conv/rgence: A League of Legends Story, we've dedicated ourselves to mastering the art of creating compelling games with rich narratives and fully-realized combat.
As we begin to enter the earliest days of what will no doubt be an exciting new era for our studio, we think it's important to take a moment to reflect on where we've been and what we've learned along the way!

Though Double Stallion first began operating in January of 2013, it was not the first foray into independent game development for our founders. Daniel Menard, our intrepid CEO, spent years participating in the mod development scene for various games including Half Life 2.
His most notable project during that period was Eternal Silence, an HL2 mod he developed under the name Crankshaft Games. An ambitious mod that seamlessly melded traditional team-based FPS gameplay with exciting space combat, Eternal Silence was a big hit with HL2 mod enthusiasts and solidified Dan's desire to create games as a profession.
Seeing the burgeoning indie game landscape of the early 2010s with the release of highly successful games like Braid and Bastion, Dan was inspired to seize the opportunity to start thinking bigger. As a result, Crankshaft Games began work on its first fully original independent game. Released in 2012, Party of Sin gave Dan the opportunity to reconnect with two friends who would become future Double Stallion founders, Vincent Hippoman and Stephane Beniak.
Though often a challenging project, Party of Sin offered the team a chance to flex their creative muscles in new ways and imparted them with a wealth of critical game development experience. Anyone who's successfully shipped an original game can attest to the fact that doing so is no small feat. Having overcome that massive challenge, the team was emboldened to pursue bigger things.
The first big step toward the Double Stallion we know today came after Dan, Vince, and Stephane met our Creative Director and Co-Founder Eric Angelillo at a Montreal industry event. After really hitting it off, they found a shared desire for a fresh philosophy of design centered around beautifully animated 2D games with fluid and dynamic action gameplay.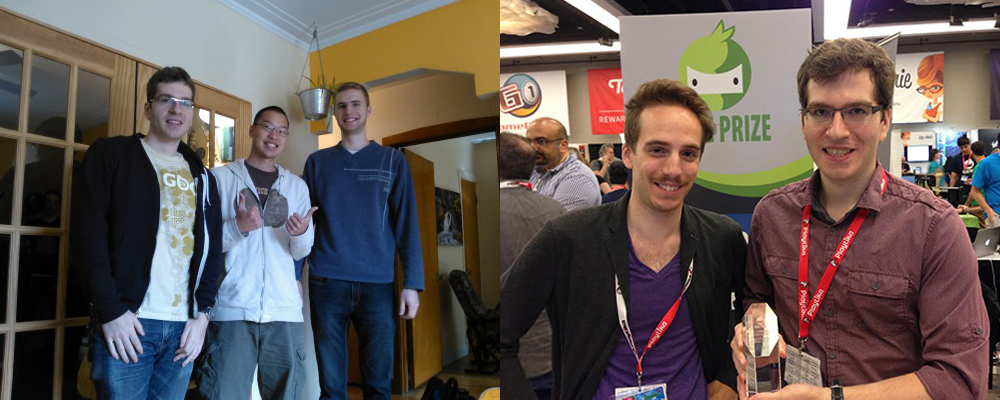 To realize this goal, the four founders decided that the old Crankshaft Games moniker and branding would not appropriately reflect the mood and tone of their new projects. Steering the ship in such a radical new direction called for the start of a brand new studio. Thus, Double Stallion was born.
A cheeky play on Double Dragon, the classic 2D brawler and inspiration for the team's first game Big Action Mega Fight, the new Double Stallion branding was designed to communicate the playful, animated energy they hoped to channel in their games going forward. (Fun fact, the two stallions depicted in our logo have actual names: Benny and Crusher).
As we worked to develop our games we also continued to refine and evolve our visual identity. With our more recent projects – like the fast-paced action brawler Speed Brawl and the upcoming Conv/rgence – we started to adopt a slightly edgier, more anime-inspired aesthetic to match our richer narratives and a faster pace of combat.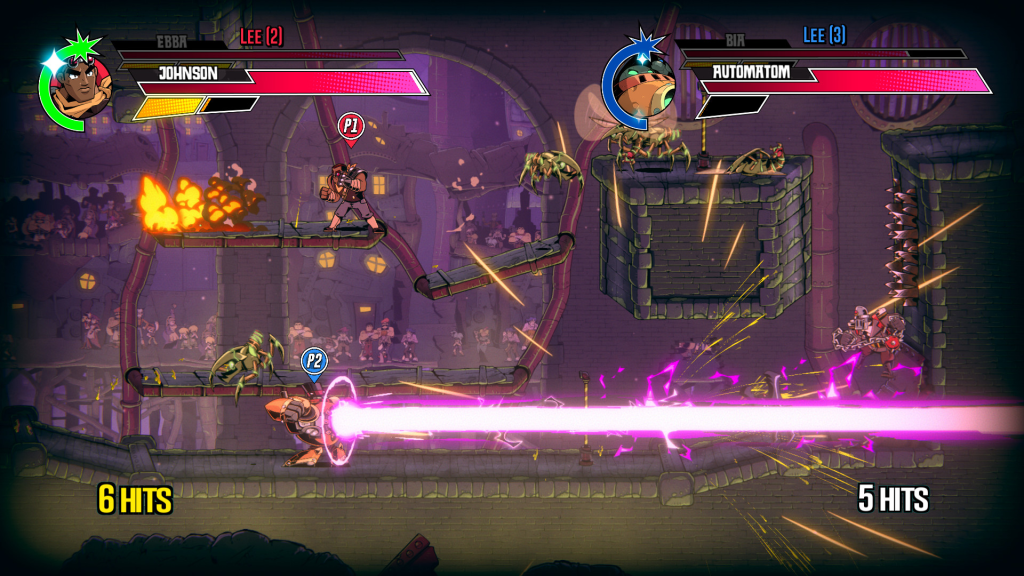 Eventually the disconnect between the games we were making and the visual identity of our studio became more apparent, and we realized that a refresh of our studio's look was in order. While we still hope to imbue our games with the same playful energy of our earliest games, it was clear that the bubbly horses-of-old would have to be updated to match the bold and dynamic new direction our studio was moving toward.
Which brings us to today! With our striking new look, an incredible team of highly talented developers, and some big plans for the future, we're poised to gallop into an exciting new chapter in our studio's history.
We plan to use this space to share progress updates on our future projects as well as some fun bits showcasing the hard working people behind our games. They're a really good bunch! We think you'll like them!
Thanks for reading this brief history of our studio. We hope you'll join us along the way as we embark on this exciting new adventure for our team! Until next time, see you later on down the trail! 🐴🐴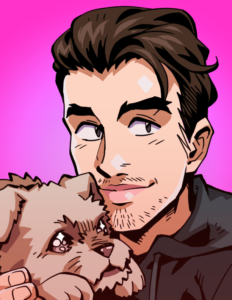 🐎 DenisEven